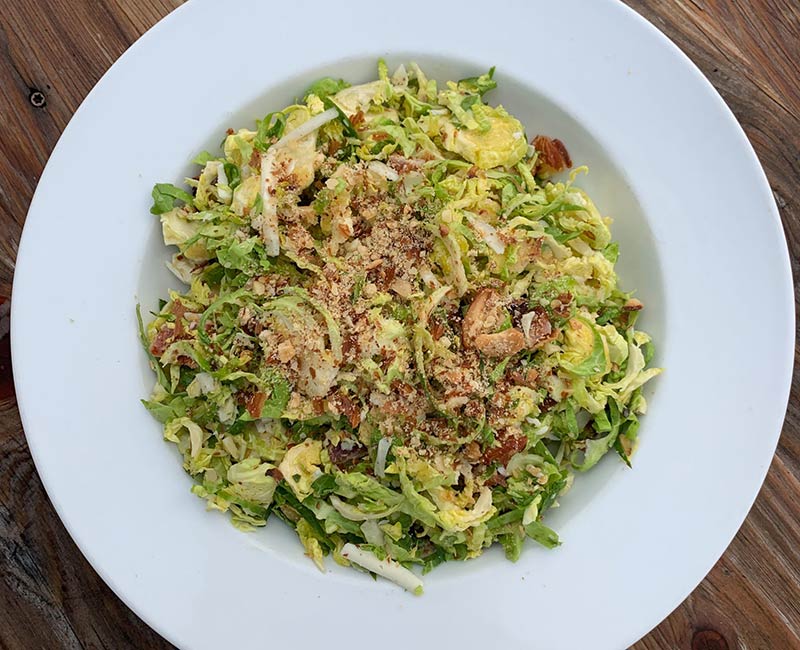 Print Shredded Brussels Sprout and Bacon Salad with Citrus Dressing
---
Description
This salad is really delicious and perfect if you like to make things ahead that you can use for lunches and sides for the next several days. Of course, as I post this we are in the holiday season, so it would be an ideal dish for gatherings!
I personally love brussels sprouts, but if you don't, I encourage you to still give it a try! When they are shredded, tossed with citrus dressing, bacon and cheese, ummm….you might have an entirely different opinion of brussels sprouts!
Aside from taste and all that, these little green guys pack a punch when it comes to nutrients! Here's the nutrient profile of these cruciferous veggies according to Dr. Axe:
A half cup of boiled Brussels sprouts (about 78 grams) provides approximately:
28.1 calories
5.5 grams carbohydrates
2 grams protein
0.4 gram fat
2 grams fiber
109 microgram vitamin K (137 percent DV)
48.4 milligrams vitamin C (81 percent DV)
604 international units vitamin A (12 percent DV)
46.8 micrograms folate (12 percent DV)
0.2 milligram manganese (9 percent DV)
0.1 milligram vitamin B6 (7 percent DV)
247 milligrams potassium (7 percent DV)
0.1 milligram thiamine (6 percent DV)
0.9 milligram iron (5 percent DV)
0.1 milligram riboflavin (4 percent DV)
15.6 milligrams magnesium (4 percent DV)
43.7 milligrams phosphorus (4 percent DV)
Brussels sprouts nutrition also contains some vitamin E, niacin, pantothenic acid, choline, betaine, calcium, zinc, copper and selenium.
Lots of reasons to love them and include them regularly in your diet. One of my favorite things about cruciferous vegetables in general is their liver loving power! They are full of phytonutrients, carotenoids, flavonoids, and glucosinolates that help neutralize toxins and support the liver in order to do its job of detoxing the body.
---
1

Lemon

1

Orange

1

Shallot, minced

½ cup

Olive or Avocado Oil
Salt and Pepper, to taste

6

Slices Bacon, cooked & crumbled

2

dozen, Brussels Sprouts

1 cup

Almonds, chopped

1 cup

Romano Cheese, grated
---
Instructions
Cook and crumble the bacon, set aside.
Squeeze the juice from the lemon and orange into a medium sized bowl. Add the minced shallot.
Gradually pour the oil into the juice/shallot mixture while whisking continuously. You should notice the mixture turning from clear to more opaque and creamy looking.
Add desired amount of salt and pepper and place dressing in the refrigerator while prepping the rest of the salad.
Cut any remaining stems off of your clean brussels sprouts and shred in a food processor.
Place shredded brussels sprouts in a large serving/salad bowl.
Chop the almonds and add 3/4 of them plus the grated cheese, crumbled bacon and dressing to the shredded brussels sprouts (you can leave the dressing on the side and mix in later as an option. I like to let it marinate so I do it all at once).
Toss the salad well to incorporate all the ingredients. Top individual servings with some of the remaining chopped almonds.
---