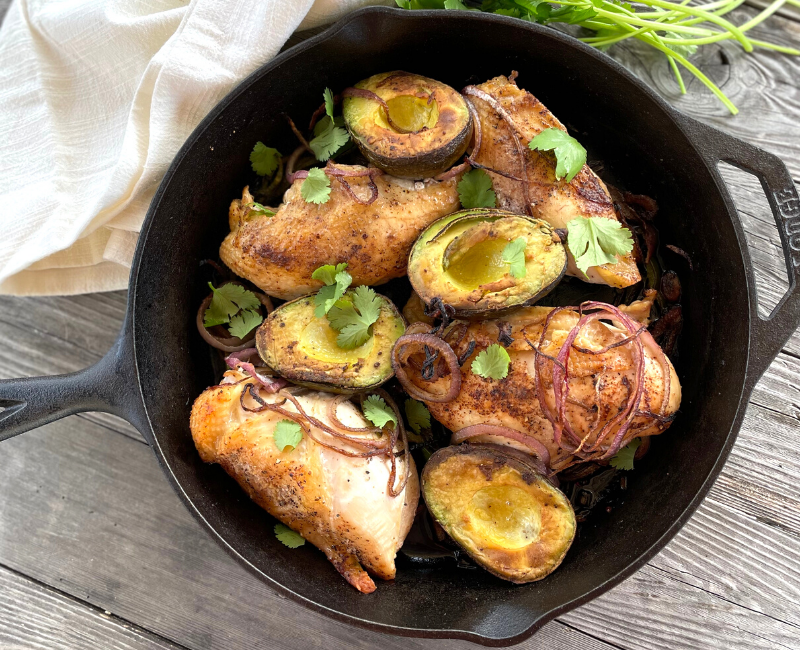 Print Chicken and Avocado Skillet (low carb/Keto)
---
Description
Who says Keto has to be boring, or hard, or just all about bacon and cheese (but I DO love my bacon)?! This dish is freaking DELICIOUS!! This is an easy low carb meal with plenty of healthy fat and lots of protein!
Make sure you have a cast iron skillet for this! And I have to brag for a minute on how perfect my avocados were….I mean, how often does that happen?! It's a moment to celebrate! Haha!
---
2 Tbsp

avocado oil (divided)

4

boneless, skinless chicken breasts (pasture raised)

1/2 tsp

pink Himalayan salt 

1/2 tsp

ground black pepper

1/2 tsp

chile powder

2

ripe avocados, sliced in half and pit removed

1

red onion, sliced into thing rings

2

green onions, diced

1

poblano pepper, sliced

3 Tbsp

fresh squeezed lime juice (save some wedges for garnish as an option!)

1 Tbsp

coconut aminos (healthier version of soy sauce)

cilantro for topping/garnish *optional
---
Instructions
Preheat the oven to 450F

Heat large cast iron skillet over med-high. Add 1.5 Tbsp avocado oil to the pan, making sure to coat the whole pan.
Season chicken breasts with salt, pepper and chile powder then add to the skillet. Cook 4 minutes on one side and one minute on the other. Remove chicken from the pan.
Add remaining oil to the pan then add the avocados, face down. Cook for just a couple of minutes until the start to brown. Remove from the skillet.
Next, add the sliced onion and sauté for a few minutes until soft and starting to caramelize. Keep the onions in the skillet.
Add the poblano pepper and green onions to the skillet and cook for a few minutes. Add lime juice and coconut aminos. Combine well.
Add the chicken and avocados (face up) back into the skillet amongst the onion mixture.
Put the skillet in the preheated oven and bake for 7ish minutes (make sure the chicken reaches 165F internally)
Remove from the oven and sprinkle with more salt, if desired and with the cilantro and lime (optional).
---