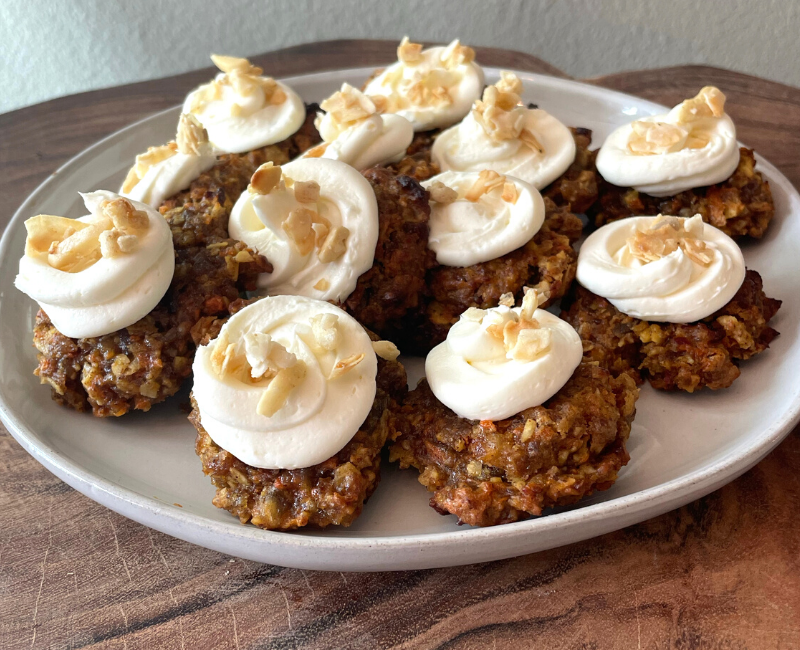 Print ---
Description
If you love carrot cake, but also love healthy ingredients, you've gotta try this recipe! These are really easy to make, but I'll warn you: you might want to make a double batch! Gluten free and no sugar added! You can make these dairy free by opting for coconut butter drizzled on top instead of the cream cheese frosting. These would be awesome as a breakfast cookie!
I would not include these in your diet if you are following a strict keto protocol currently. They are great during a carb cycle, however!
---
1 cup

carrots, grated

1 cup

unsweetened coconut, shredded

3/4 cup

dates, pitted

2 Tbsp

pecan butter (or nut butter of choice, but I HIGHLY recommend the pecan!)

2

eggs

½ tsp

vanilla extract

2 Tbsp

monk fruit sweetener (you could do honey or pure maple syrup as an option)
FROSTING/TOPPING
4 oz

full fat cream cheese, room temperature

1 tsp

vanilla extract

1/4 cup

– 1/2 cup powdered monk fruit sweetener (depending on sweetness you prefer)

2 Tbsp

+ heavy whipping cream (depending on desired consistency)
optional: toasted coconut flakes to sprinkle on top
***Optional for dairy free: Coconut butter or manna (melted and drizzled on top)
---
Instructions
Preheat the oven to 350F
Combine all ingredients in a food processor and blend until everything is well mixed and holding together well.
Place rounded spoonfuls of dough on parchment paper lined cookie sheet and back for 12-15 minutes, or until starting to turn golden and the cookies are set.
FROSTING:
Beat all ingredients in a medium sized mixing bowl with an electric mixer, until well combined and fluffy.
Spread the frosting on top of the cooled cookies and enjoy!! Store in the refrigerator if they last that long 🙂
*optional: sprinkle toasted coconut flakes on top
DAIRY FREE: Melt some coconut butter enough to be able to drizzle and you top the cookies with it, if you would like! I love them with or without the coconut butter! *you can also make your own coconut butter by putting unsweetened coconut into your food processor and blending for several minutes until it breaks down. You might have to add a little coconut oil to help the process a little. It's delicious on waffles, pancakes, in recipes, etc!
---