Print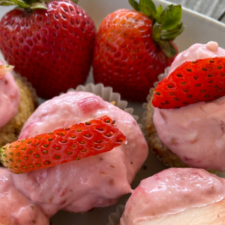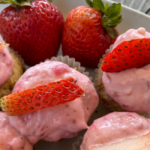 Raspberry Strawberry Keto Cupcakes
Author:

Prep Time:

20 minutes

Cook Time:

20 minutes

Total Time:

40 minutes

Yield:

8

mini cupcakes

1

x
---
Description
Who doesn't love a cupcake and especially when its summer and you have fresh organic berries!! Berries are the best fruit to reach for if you are following a ketogenic or low carb protocol. They are some of the lowest carb fruits and if you pair them with some healthy fat and/or protein, even better. Why? Because always making sure to consume carbs WITH fats and/or proteins helps maintain a stable blood sugar level and therefore promotes a healthy insulin response as well. 
Can you have desserts on KETO? Absolutely! These are the kinds to gravitate towards! My only piece of advice would be to not have them all the time. Some of the goals with keto or low carb (or even paleo for that matter) are to get yourself off of the crazy sugar cycle. Even though using sweeteners like monk fruit won't illicit a blood sugar and insulin response like table sugar, you still have that taste to contend with that you are offering to your taste buds. For some people, the taste alone is enough to keep them "stuck" so to speak, with strong cravings. The other thing to consider is that all of our bodies and the way our bodies respond to foods are extremely unique. Monk fruit sweetener might not impact your blood sugar, but mine might have more of a reaction than you might think.
So, how do you know if a low carb/keto friendly sweetener impacts your blood sugar more than expected? The first, easiest and least expensive method is to just really watch how your body responds. If you are having desserts or treats consistently, or even adding sweetener to your coffee a lot, and your body is not responding the way you would like it to on the ketogenic diet, I would consider backing off of the sweet stuff to see how things might change.
Obviously, the other way to tell would be to use a glucose meter and test with certain foods!
These cupcakes would be amazing minus the frosting if you would rather have some moist Raspberry Strawberry muffins instead.
---
1/2 cup

raspberries (1/4 cup if you are not doing the frosting) 

1/2 cup

strawberries (1/4 cup if you are not doing the frosting)

For the cupcakes:

1 cup

almond flour

2 Tbsp

coconut flour

1/4 cup

monk fruit (use whatever keto friendly sweetener you prefer)

1/2 tsp

baking powder

1/4 tsp

salt

2

eggs

4 Tbsp

butter, melted

1 tsp

vanilla extract

For the frosting:

1/2 cup

cream cheese, room temp

5 Tbsp

powdered monk fruit (or keto friendly sweetener of choice…just make sure it's powdered)

1 tsp

vanilla extract
---
Instructions
Berries:
Chop the berries fine or blend them in a food processor

Cook the berries in a small pot over medium heat, stirring so they don't stick. 

Keep stirring and cooking until they start to release moisture (they will smell amazing!). Once they soften up and are nice and juicy, remove them from the heat and set aside. 
Cupcakes:
Preheat oven to 350F. 

Mix almond flour, coconut flour, sweetener, baking powder and salt together in a small bowl.

Mix eggs, vanilla and melted butter together in a medium sized bowl. 

Add the dry ingredients into the bowl with the wet ingredients, mixing well. Add 1/2 of the cooked berries and combine well. 

Drop batter in to prepared cupcake tin (this will make about 8 mini cupcakes or 4 regular sized cupcakes.
Frosting:
 Beat the cream cheese in a mixer until creamed. 

Add the powdered sweetener and beat well (scrape the sides as needed)

Lastly, add the vanilla and remaining cooked berries. Mix well. Chill in the fridge while the cupcakes cool.

Decorate and enjoy!! 
---